Tobias laid the foundation for his career in the digital industry at the age of ten, when he started programming. But he actually wanted to become a professional soccer player or a journalist. Instead, he founded two companies. His winding career path has led him to Bertelsmann, where he is CEO of Europe's leading digital studio and influencer network We Are Era. The father of three is driven by a desire to make a difference on this planet.
What did you do before you joined Bertelsmann?
During my studies of political science and business administration in Mannheim and Milan, Italy, I wrote journalistic texts as a freelancer. I then interrupted my studies for three years to found a music streaming service. And as soon as we had sold that company, I launched a data analytics start-up. In between, I finished my degree.
When and why did you decide to join Bertelsmann?
When I was 32 and discovered the Bertelsmann Entrepreneurs Program, now the Future Leaders Graduate Business Program, I decided to turn my back on the start-up scene and continue my career at Bertelsmann. I wanted to see what it was like to work for a corporation. So I wrote the first application of my life, and during the selection process, my wife saw me nervous for the first time.
And how did it feel to work for a corporation?
Great. However, the Future Leaders Graduate Business Program is not your typical corporate job. You move around the different divisions of the company like a free radical and travel the world looking for new, exciting business. Many people think that a large corporation is slower than a start-up. I know both, and I know that it's the approach that matters most. If that's right, a corporation offers excellent opportunities. It all depends on your own attitude, the attitude of the people around you and the resources you have – these determine how fast you are.
What happened once the program had ended?
After 18 months in the graduate program, I took over the management of We Are Era. There we create the video value chain for an entire generation, from concept, strategy and talent to creation, production and media. We offer digital rights management services and media solutions for Europe's largest influencer network. Influencers expect us to connect them with their target groups. Our audience consumes our content across platforms, in different genres, and with talent in front of and behind the camera.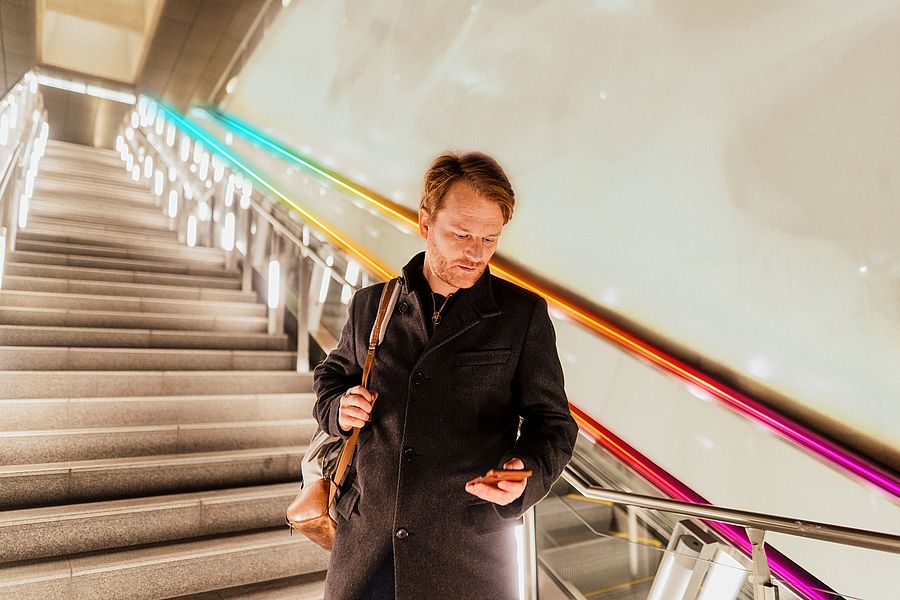 "To me, work means being paid for something that you love to do."
What makes your job exciting?
The constant change. The video industry is aligned with the ever-changing behavior of consumers. People no longer own content, but want to access it whenever they want. The constant availability of video has morphed into video-on-demand, and the level of customization has also greatly increased. In our industry, nothing is stable – and it's great fun to be agile, to think differently and around corners. In my job, there are changes every day, and the pace is increasing. Today probably is the slowest day of the rest of our lives. Unpredictability and constant change are things that many people don't like in their work environment. I am driven by them.
What does creativity mean to you?
I have always enjoyed creating something. Maybe that's why I preferred playing with Lego as a child to other toys. When I grew up and it wasn't really cool to play with Lego anymore, I started coding. And now I work with a lot of creative people and we create a whole industry. Creativity for me means making ideas real. And modern technologies now allow me to do that even faster and more efficiently than ever before.
How and where do you find balance in your life?
At home with my wife and our children. Often on a Monday I don't know where I'll be on Thursday. But when I'm with my family, they know I'm right there. My family is important so that I can find my balance and be happy both privately and professionally. Beyond that, I try to see and read as much as I can to continually expand my horizons. I truly believe that true inspiration can only come from knowing a lot and connecting the dots. The more points you know, the better the inspiration.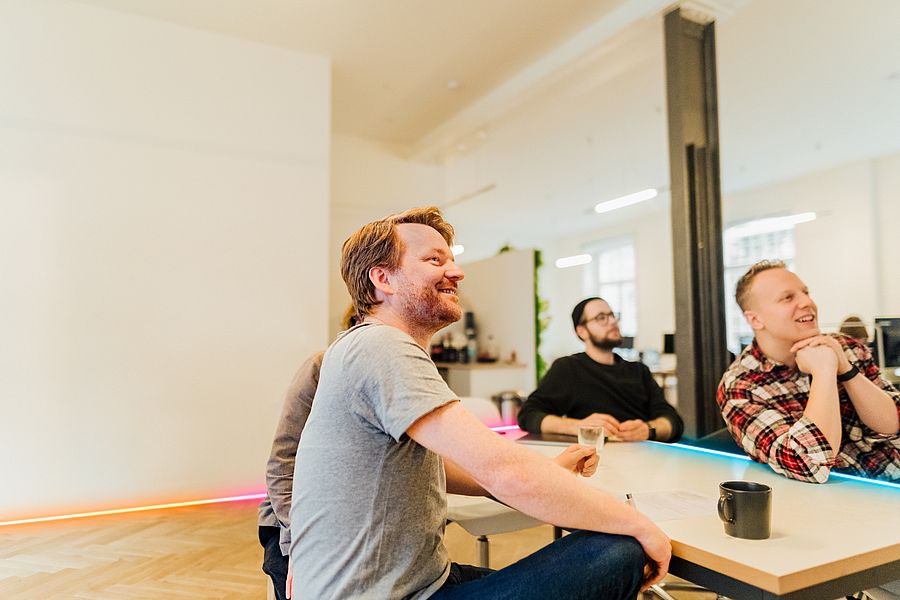 "Creativity means turning your ideas into reality. In the environment that I am in, it's even better because I do it together with many others.""
What makes a good team player?
The inner drive to do something. The motivation to really want to change things. People who bring this with them are ideal for our team. I don't want to have anyone around me who has to be forced to do something. When in doubt, I prefer those to whom I have to say: You've gone too far.
What makes a good leader?
A good leader is the one who never avoids conflict, but always tries to resolve it. Friction is a good thing, it generates energy and can sometimes be really helpful because it moves things forward. Conflicts are not about winning or losing, but about finding the best solution for everyone. Only then can we be successful together.
What makes you happy?
That I do a job that, for the most part, doesn't feel like work at all. We spend so much time at work, so it should be fun. It should be something you feel passionate about. And it's even better if you get paid for something you're passionate about. Sometimes I feel like it's almost ridiculous that we get paid for what we do. We get to see so many interesting places and people, and we shoot videos in the most amazing locations that you wouldn't normally get to see.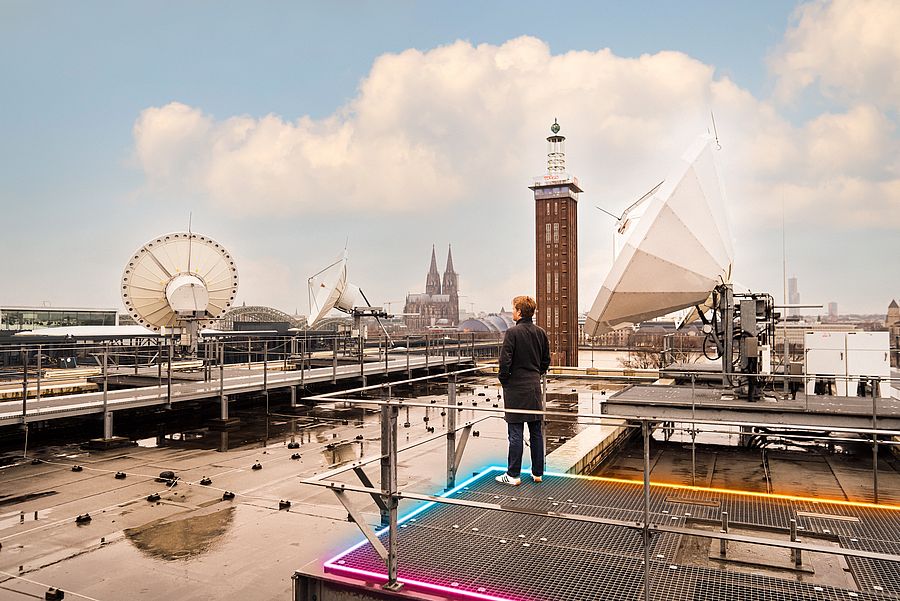 "I think this is the slowest day for the rest of our lives."
Is there anything that annoys you beyond measure?
Waste, in every respect: of natural resources, of energy. But what really makes me angry is when human energy is wasted through political calculation and lack of transparency. The market in which we find ourselves is so competitive and the environment in which we operate with our companies is so fast-moving that we cannot afford this. I want to use the energy of our employees exclusively to create something.
What was the worst moment in your career so far?
As a young founder, at 21, 22 years old, I've had moments where the next round of funding had not yet been signed off, and I didn't know how I was going to pay my employees. That was scary. But in retrospect, it was also good training for navigating through tough times and uncertainty and rethinking how much you can get done even with minimal resources. In addition, such situations taught me to keep control of my emotions.
Are you working in your dream job?
If this wasn't my dream job, I would change something about my situation. I think professional life is about shaping your own career. I've done that my entire professional life, and I still do that every day. I want to make a difference in this world and improve things, as ideally everyone should. You can't waste your time – the sheer fact that you exist should make a difference.