His economics studies were more generalist than specialist, and his first job as an assistant to the management board also involved a very broad range of tasks. Today, as Vice President of Healthcare at Arvato Supply Chain Solutions, Paul continues to do typical management tasks, but in a highly specialized area. He leads a team based in Harsewinkel, Germany, that ships medical equipment and drugs for rare diseases around the world. As the father of a young son, he appreciates the hybrid work model that allows him to choose where he can perform at his best.
What did you do before you joined Bertelsmann?
After completing my bachelor's degree in business administration and economics in Bochum, I took a gap year to gain work experience. I then did a master's degree at the Technical University of Dortmund majoring in supply chain and corporate management, and including a semester abroad in Turkey at the University of Izmir. After my master's degree I did an internship at a consulting firm, where I learned a lot about methods.
How did you start your career at Bertelsmann?
My studies were more general in nature, and that's how I started my career – as an assistant to the management of Arvato Supply Chain Solutions (SCS). This position enabled me to see what careers can look like and the core areas available, as well as giving me an early opportunity to take on responsibility in meaningful projects.
How would you describe your job to your grandmother?
Arvato SCS Healthcare ships pharmaceuticals and medical devices to pharmacies and hospitals. Together with my teams, we ensure that these get to the right place at the right time in the right quantity and quality. I also see to it that we continually develop the range of our services – in close cooperation with our broad customer base.
What makes your job exciting?
Logistics is highly unpredictable – no matter how good your plans are, things usually turn out differently and you have to improvise. The work we do is also exciting by significantly contributing to the common good. People would not be able to undergo surgery or treatment without the services we provide. Although we are not medics, we do indirectly help people to get healthier.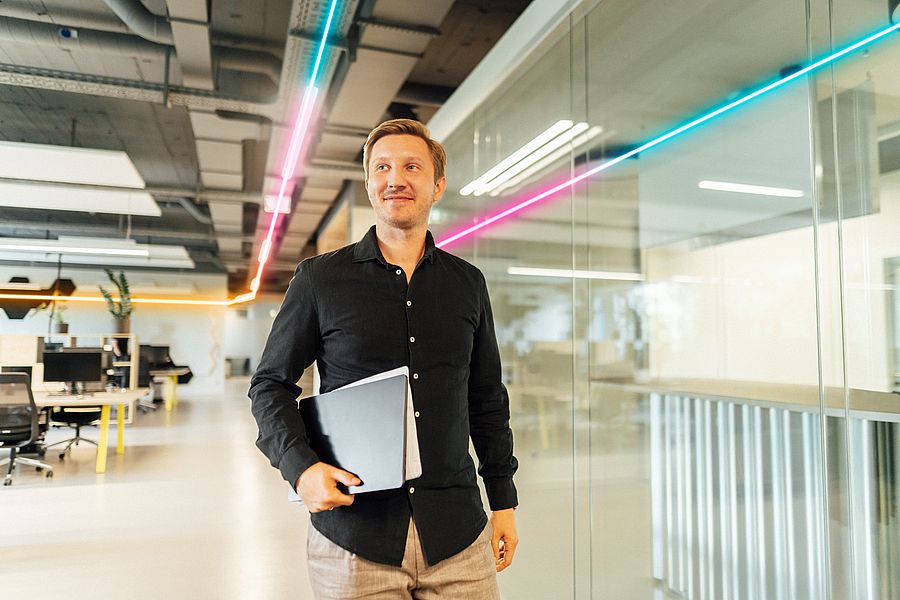 "The work we do is also exciting by significantly contributing to the common good. People would not be able to undergo surgery or treatment without the services we provide."
Who or what motivates you?
Success motivates me. At SCS Healthcare, we are growing steadily and are a good, successful team. I am also motivated by being able to again work face-to-face with people post-corona. Inspiring each other, making things happen together and enjoying our accomplishments – that's something great.
Which skills of yours do you want to develop?
To be able to communicate in such a way as to have a broad impact. I currently have 350 staff, and to reach colleagues at all levels, the message has to be right, otherwise it all just becomes like the telephone game we played as children with all the inevitable misunderstandings. A second closely related topic is leadership. I need and want to get a better understanding and make smarter decisions on how to engage with and involve my staff.
What makes a good manager?
They need emotional intelligence, i.e., to be empathetic, able to listen and communicate on an equal footing. A good manager also needs to be capable of setting clear goals and mapping out ways to achieve them. Regular feedback is also very important – which can be to the point, short and concise, as well as impromptu. My motto: "Regular and short rather than seldom and lengthy".
Entrepreneurship and creativity are at the core of Bertelsmann's values. What meaning do they have for you?
Supply chains also require us to be creative. We need to be innovative to extend our service portfolio, and we need to keep engaging with customers on new topics. Creativity comes from teamwork, from the interplay between different perspectives and different strengths. Entrepreneurship is something that is really practiced at Arvato SCS and at Bertelsmann as a whole, and the main reason why many of my colleagues are here. I don't think many businesses embrace to this extent. If you are willing to take on responsibility, there are few limits to what you can do, and not just at the management level. Whoever has an idea and believes in its potential will get the opportunity to try it out. And it's also okay if mistakes happen.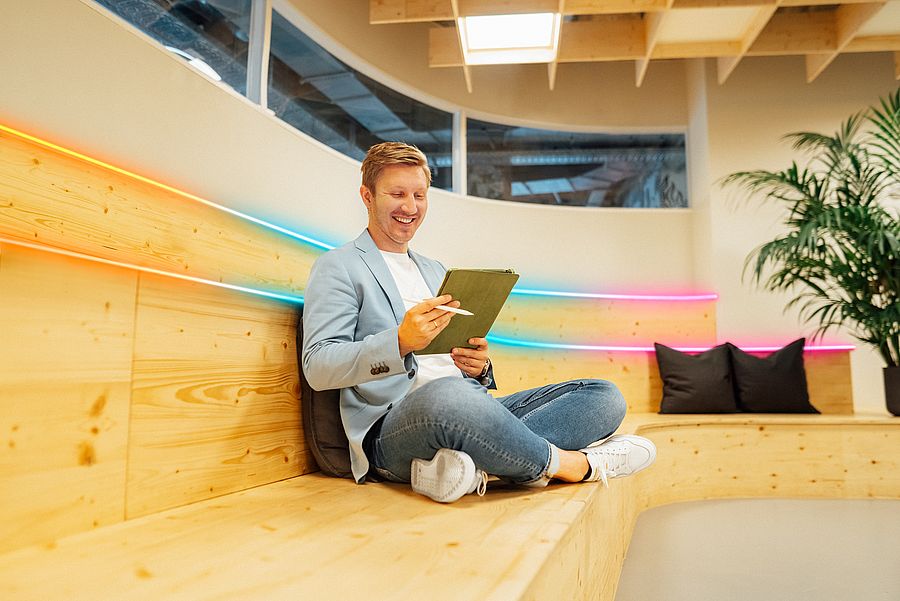 "I need and want to get a better understanding and make smarter decisions on how to engage with and involve my staff."
What makes a truly responsible company?
Firstly, a company needs to operate sustainably, i.e., investing with an eye to the future and in ways that have long-term value. Secondly, a company needs to view and treat people as its most important resource, i.e., employees must be able to develop and grow to their full potential. Thirdly, a company needs to minimize its impact on the environment.
What does flexible working mean for you?
Being able to choose where I can perform at my best is something I really value. I prefer preparing customer contracts from home where I can really focus. But when working out solutions together with my team, I want to get together with colleagues in the office. I also enjoy the flexibility to be at home when a repairman is coming. The hybrid model really does provide value.
What makes you happy?
My family. Just over a year ago I became a father, and our son brings us a lot of joy. Having flexibility at work makes me happy. In the past I would have left for work at 7 a.m., and then returned home just before the evening news. For 5 days a week I would have then only seen my child as he slept. Now I get to have lunch with the little one or give him a quick cuddle during my break times. I'm just much more involved in his life, and that's wonderful.
Who or what inspires you?
My wife. I can talk to her about anything and reflect on what's going on at work, with her often bringing a completely different perspective into play. Also inspiring me are my colleagues at Arvato SCS. It's really great that they get so involved and come up with so many great ideas. Bertelsmann actually has many inspirational personalities. I belong to Team 2030, a group advising our CEO Thomas Rabe on trends that might be important for the future of the Group. I meet people in this team who have completely different jobs than I do. So, although I don't learn anything specific from them that I can immediately apply in my job, the conversations have been extremely enriching.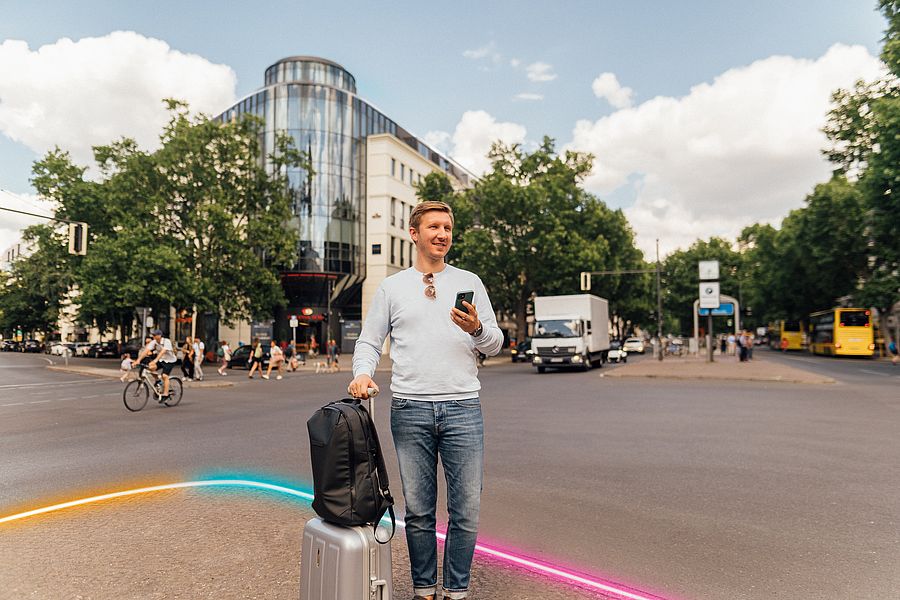 "Being able to choose where I can perform at my best is something I really value."
What is important to you in developing your career?
If I had joined Arvato with specific goals, the path I have taken would have exceeded all my expectations. Back then, I couldn't have imagined being where I am now. So having a specific career plan is something I have moved away from to some extent. "Create your own career". These are not just words here, it actually happens. So it'll be great if I can continue to do just that.
What skills will be important to you personally in the future and how do you plan to develop and expand them?
Skills to adapt and constantly reflect on one's own actions are crucial in the way the world around us is evolving. You cannot afford to be content with what you have just done, because soon everything can be completely different. You must never stop asking: will what we are doing today still be right tomorrow?