During her internship, Inka was able to take on a lot of responsibility. The opportunity then arose to write her thesis at Bertelsmann Marketing Services, so she extended her stay in Gütersloh for another six months. That was 13 years ago. Today, she is Vice-President of Sales & Key Account Management at Campaign, constantly scouting new developments in data-driven marketing. She has a bucket list full of amazing places she wants to visit, but three things always make her happy: good people, good weather and delicious food.
What did you do before you joined Bertelsmann?
Apart from spending a year abroad in Santa Barbara, California, I hadn't done much else, because I came to Bertelsmann while studying business administration. It was also a chance encounter. A last-minute internship cancellation meant I had to quickly look for an alternative. I sent off around 100 applications, and Bertelsmann Marketing Services were the first to get back to me. Two days later I had an interview, a few hours after that I had a room in a shared flat in Bielefeld, and within another two weeks, my first day at work. Friends advised me not to move to Bielefeld, but I thought it would only be for six months in any case. Yet I soon had responsibility for a large customer, and then continued taking on new tasks until I eventually got my first team in 2015 and then became departmental head two years later. In 2019, as part of company restructuring, I had the opportunity to start and establish a new department in exactly the way I wanted. So there has never been a time when I wanted to leave.
Did you ever think you would one day have the job you have now?
Not really. At school and during my studies, my grades were pretty average, because a lot of what I was learning didn't really interest me. I was always ambitious, but only in disciplines that I also enjoyed, such as sport. During my internship at Bertelsmann Marketing Services, I kept getting positive feedback, which sometimes surprised me. My energy and the fun I had at work were things I never imagined would take me to my current position as Vice President. Sometimes I still can't believe how far you can go when the environment is right.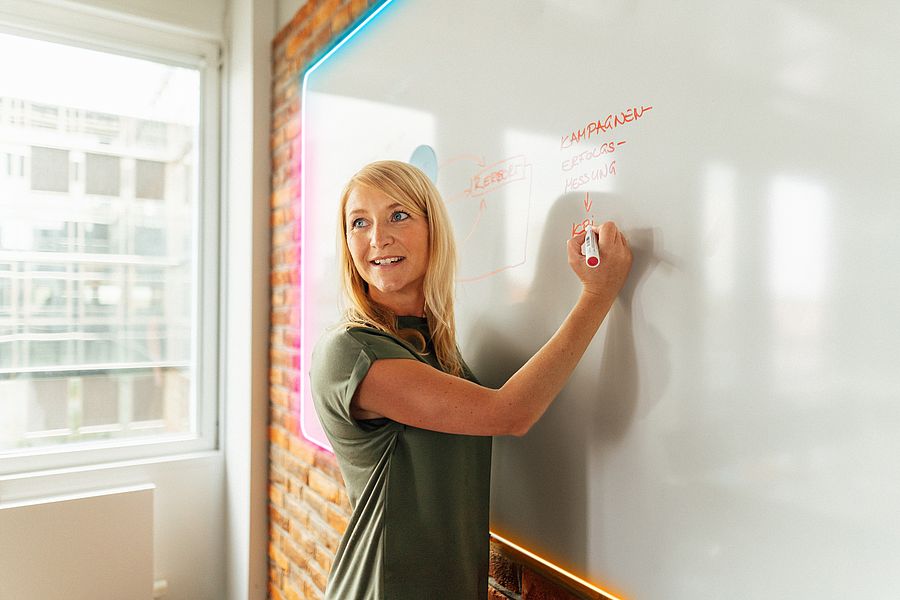 "When I go on vacation, I'm super relaxed because I know my team has the place under control."
How would you describe your job to your grandmother?
We help large companies to run personalized marketing campaigns. This means analyzing data, defining target groups, selecting the right marketing channels and ensuring customers are addressed very individually with the right message at the right time on the right channel.
What makes your professional life exciting?
The extreme volatility of the market in which we operate. Things are on the move all the time with new trends, new channels and new challenges constantly emerging. We need to be extremely flexible and have our fingers on the pulse and provide customers with the best possible solutions. We work with many well-known companies who keep developing and continuously provide us with exciting challenges.
What has been your biggest career achievement?
I am incredibly proud of my team. In a working environment that allows plenty of freedom, it is vital to have highly motivated people. I have carefully chosen each and every one of my staff. The result is a team I can count on completely. When I go on vacation, I'm super relaxed because I know my team has the place under control.
What motivates you?
Having opportunities to fully apply myself and my ideas. Having my ideas taken seriously, and it being okay if I make mistakes or change my mind. We work in a very dynamic environment and need to constantly think about the direction we're going in and to always challenge the status quo. It's really great to have so much freedom and scope for creativity.
How did the Business Unit Campaign actually come about?
Originally, we were a print and lettershop. We made an early investment in digital printing, which enabled us to fully personalize mailing. But our customers were generally not as advanced as we were, often lacking the data to actually use our services. Realizing this, we offered to work with customers to set up the necessary databases. By analyzing this data, we can make proposals as to which marketing campaigns make sense on which channels.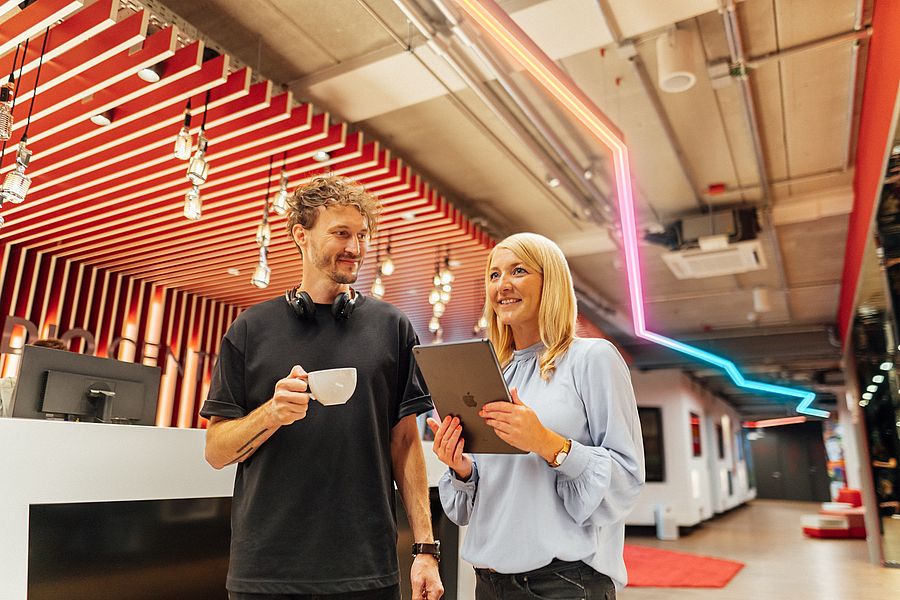 "I am not a good manager by saying how to do things, but by pointing out targets and giving the freedom in achieving those."
As a conventional business graduate, did you first learn about data analysis on the job?
Studying taught me how to acquire the know-how I need. This ability is much more important for my job than any of the actual content I learned at university. I'm in a constant learning phase, keeping my ear to the ground at events, attending webinars, listening to customer presentations. I need to be up-to-date with market developments when meeting with marketing managers from large companies.
Entrepreneurship and creativity are at the core of Bertelsmann's values. What meaning do they have for you?
To truly embody these values, you need a work environment open to new ideas and one that enables employees to put them into practice. Easier said than done. The mindset of management is crucial here. Managers should not think they know it all but should look at themselves critically and be aware that the input of each individual employee is important to keep the company moving forward. And the more diverse the team, the more likely it is to be truly creative and generate growth.
What makes a good manager?
A good manager must be available when guidance is needed. They need to be able to delegate responsibility while letting their staff find their own way, including taking the occasional wrong turn. I am not a good manager by saying how to do things, but by pointing out targets and giving the freedom in achieving those.
What matters to you as you create your own career?
Having a flexible environment that allows me to grow and develop. And having a feeling of adding value. I enjoy both in my current job and probably always will as long as I stay in this industry and in this company.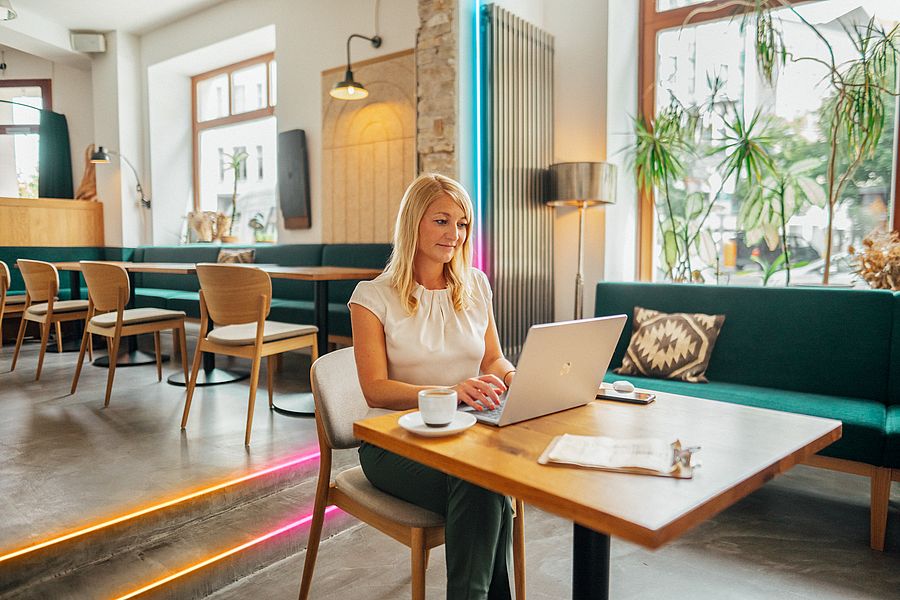 "I cannot know everything, but I can always ask questions, look at things from different angles, listen, stay alert and adapt to new situations."
What comes to mind when you consider your professional future?
Technological progress means that many new marketing trends and innovations are emerging. It's important to remain agile and, as a team, use that agility in the way we work together. Everyone working together in the same place at the same time is a model that will no longer exist in the future. This will make big demands on my team and also on me as a manager. To manage a team remotely is challenging and will mean being increasingly available. It's therefore vital that I take care of myself, to take breaks, to be more aware in managing meetings, and to improve communications in such a way that my team and I don't lose ourselves in this extremely agile environment.
What skills will be important to you personally in the future and how do you plan to develop and expand them?
I want to remain curious and motivated to personally develop. I cannot know everything, but I can always ask questions, look at things from different angles, listen, stay alert and adapt to new situations.