Stretching herself across a diversity of topics, expanding experiences and maximizing her impact – that's what matters to Divya when it comes to creating her own career. She is Head of Global Strategy at Penguin Random House (PRH) and has been with the company for about eight years and in the industry close to 15 years. With her team and scope being global, she works across different time zones and locations. None of Divya's working days are ever the same, and that's one of her favorite parts of the job.
What did you do before you joined Bertelsmann?
After attending Barnard College at Columbia University in New York with aspirations to be a writer, I found myself interested in creative and commercial aspects of books and started my career in publishing. First I worked at literary agencies in New York and in London, then I joined the world's largest global children's book publisher, Scholastic, where I worked across sales, marketing, analytics and product development and even wrote a children's book! As the publishing industry was undergoing rapid change across the retail and consumer environment, I wanted to study different industries, academically and practically, to broaden my toolset. I aspired to complement my creative background with a wider analytical skill-set. As a result, I pursued an MBA at The Wharton School of Business at the University of Pennsylvania with a focus on Strategic Management and Marketing Operations. That whole journey led me to my entry to Penguin Random House in 2014.
When did you first hear about Bertelsmann?
Actually, it was much earlier than when I joined post grad school! When I was a junior in college, I was one of some 20 college students who earned a spot in the Random House Summer Internship program, and that's when I first came across Bertelsmann. Many years later, when I was exploring post Business School opportunities on the Wharton career opportunities job board, I saw a posting for what today is called the Business Track of Bertelsmann's Future Leaders Program (the former Bertelsmann Entrepreneurs Program). I thought an entry into Bertelsmann would be a great way to marry my background in creativity with business in the media space, especially at an esteemed global company with a footprint across several media categories.
When and why did you decide to join Bertelsmann?
When entering business school, my goal was to gain exposure to different industries through courses, internships and research opportunities. Post school, I aspired to enter into consulting and one day return to the media space and publishing to lead a strategy team. In my second year, I explored opportunities in consulting and strategy roles, one of which was the Bertelsmann Entrepreneurs Program. Through the course of my discussions with different colleagues from Bertelsmann and Penguin Random House, it became evident that my experience in publishing and media across licensing, marketing, and strategy could be a real asset more immediately after business school than if I went the consulting route first. Further, I was excited by the opportunity to join a leading global media company at the forefront of creativity and entrepreneurship. And so, when I was invited to take a role directly within Penguin Random House, I jumped at the chance to create my own career here.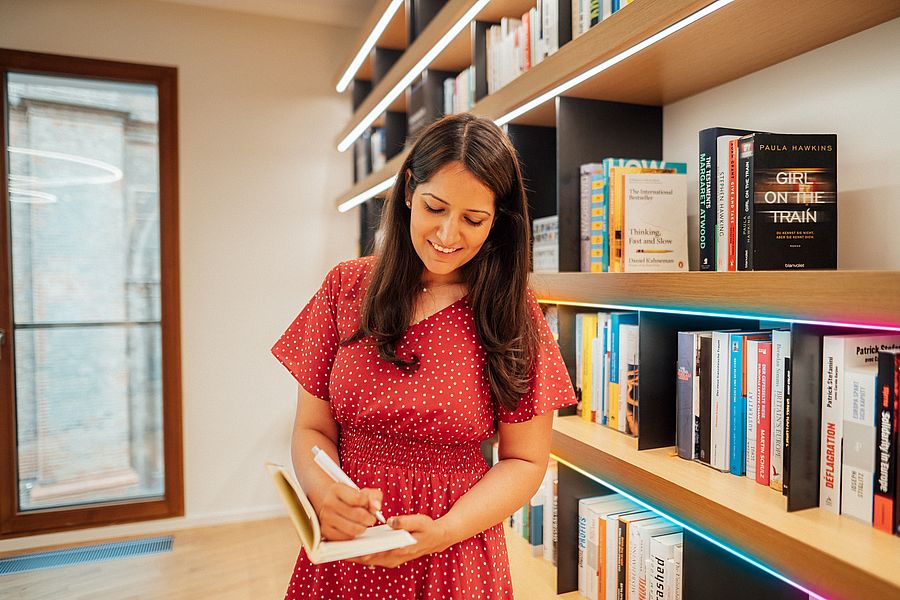 "I want to always work in environments that offer the latitude and space to ideate, create and execute across different topics."
How would you describe your job to your grandmother?
I would say that my role is that of an architect. For example, I drive growth strategies across different areas from our content footprint in children's and audio to transforming our marketing and data functions. In my role, I partner with senior leadership across PRH to build a vision of where the company or a particular area could grow globally and across different markets. Then I work out what it takes to make that vision become reality. I design the plans, incorporate input from key partners, and then organize and guide the team to implement that vision. Often times, I am also a "contractor" responsible for rolling up my sleeves and taking on building!
What makes your professional life exciting?
I enjoy tackling complex topics and partnering with different colleagues to solve the most pressing challenges and opportunities facing our industry and the media space today. I thrive in an environment that is open to discourse and that is non-hierarchical – the strongest and best ideas drive decision-making. What's exciting to me is working at both a global strategic level as well as on an operational front – command of strategy and implementation go hand in hand for me. One of my core strengths is the ability to work all the way through strategy development to actual execution and implementation of the strategy across all levels.
Has there ever been a fork in your career path? Which way did you take?
Absolutely. I had had specific experience in children's publishing in the US. Then I went to Business School to widen my experiences across other industries including consumer product goods. When I joined Bertelsmann and Penguin Random House, the breadth of my role met exactly my goals – it was global, cross-media, and adult and children's content-oriented. The expansion I had wished for really worked well for me. There were times in which I considered focusing within a specific area or function. However, I found I could continue to grow and impact our 11 businesses and several different functions by evolving and growing my existing role and team, which I've successfully been able to achieve with the support of my mentors and supervisors at PRH.
What is your motivation?
I am motivated by three things. Number one is impact – how I can help structure analysis and drive decisions at all levels to make the most meaningful difference. Number two is continuing to (re)learn and, as our author Adam Grant puts it, rethink. I enjoy challenging myself and others to always question assumptions and our instincts. I find it interesting to study creative, business and entrepreneurial practices across different sectors and apply these learnings to continue to challenge and evolve what we do and how we run our business. Number three is growth. I believe there is no "graduation" from development – only continuous progress to better oneself and our business and I routinely seek out "stretch experiences" to grow.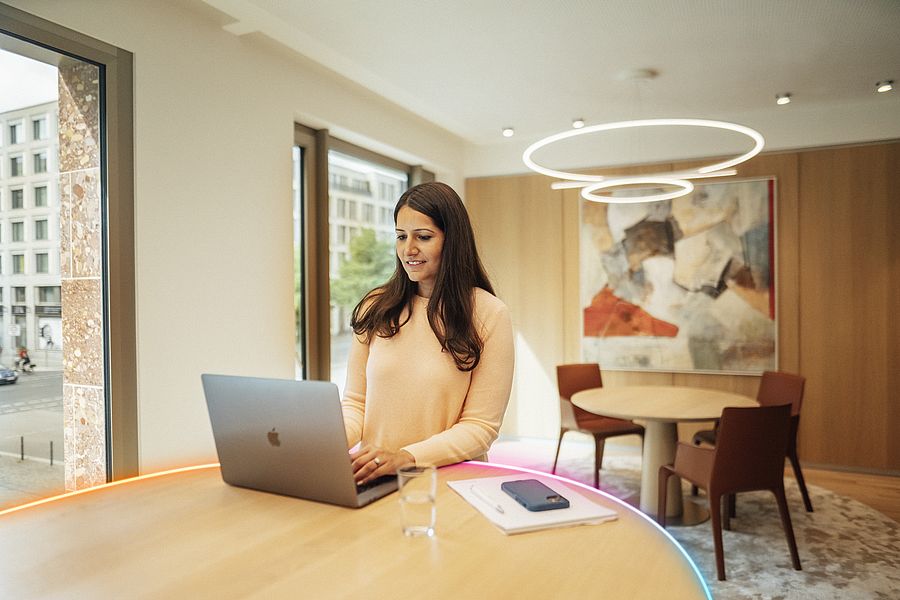 "Creativity is the ability to look at the world and our business with a fresh pair of eyes every day."
Which of your skills do you want to expand?
I currently have direct oversight over a team spread across London, Madrid and New York, and I also informally lead a variety of global projects with cross-functional teams. My work requires a constellation of skill-sets: persuasion and encouragement, customized solutions factoring in local sensibilities around businesses and markets. In the future, I could see other routes of making an impact by directly leading a larger team across a particular area to deepen my global and functional experience.
What do entrepreneurship and creativity mean to you?
To me, entrepreneurship translates into the freedom and the autonomy to drive results by experimenting and marrying data with instinct. Creativity is the ability to look at the world and our business with a fresh pair of eyes every day to derive solutions and ideas.
What makes a good team player?
I believe an excellent team is composed of members with strong individual skill-sets or "super-powers" and the ability to operate as a powerful unit. A good team player recognizes when to exercise those individual strengths, when to play a role in supporting others and when to step in to lead – with both EQ and IQ. Having a diversity of perspectives is a key strength of a team – and I seek to foster that diversity every day.
What makes a good leader?
First and foremost, it's hunger – the desire and the ambition to be better and help others be their best selves. Second, it's hustle: acting on that hunger, taking that opportunity by the reins to test, experiment, try and learn. Last but not least humility – hearing from team members across levels and experiences and seeking to make an impact. I'm inspired by Reinhard Mohn's message that as leaders and entrepreneurs, our impact and our responsibility extends beyond our company and into society.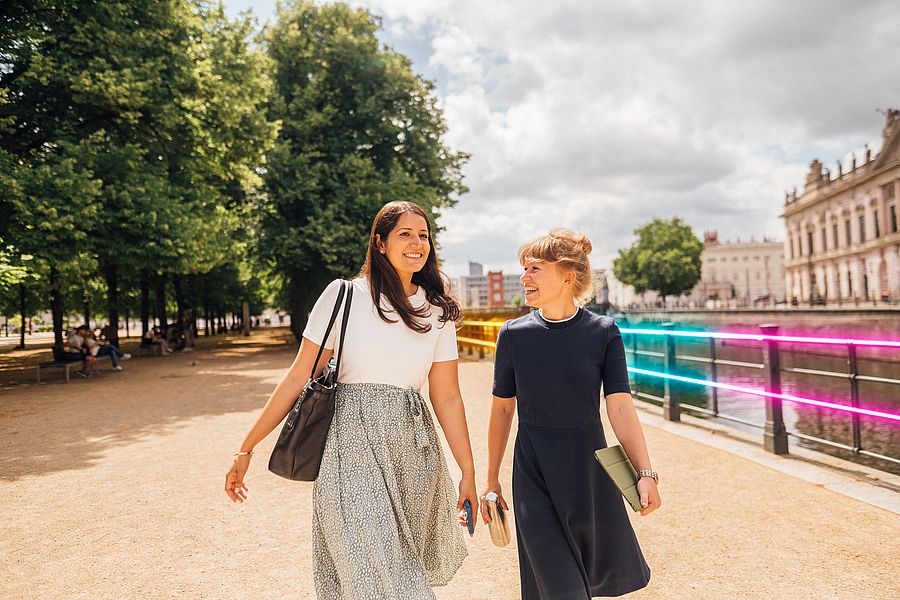 "I love working with very smart people from diverse backgrounds who are not afraid to challenge or be challenged."
What matters to you as you create your own career?
Something I learned in Business School was the importance of stretch experiences. Whether it was climbing a mountain in Spain or partnering with a small non-profit theatre to help grow its revenue, I sought opportunities to challenge and grow myself. That's what creating my own career is all about. I want to always work in environments that offer the latitude and space to ideate, create and execute across different topics, all in service of maximizing impact.
What comes to your mind when you think of your future career?
One of my favorite memories is when I, along with a team of global colleagues, were going to pitch a book idea to a very high profile client. There were people from Germany, South Africa, Spain, India and the US on that team, from a diversity of functions, tenures and experiences underpinning our work. The experience of preparing the pitch was just as motivating as presenting it. I love working with very smart people from diverse backgrounds who are not afraid to challenge or be challenged and who allow for open discourse in service of better decision-making and solutions. I aspire to continue to operate in environments such as this.
Which of your passions do or will play a major role in your career?
I'd love to always think with the curiosity and inquisitiveness of a 5-year-old while accumulating and implementing the experience and wisdom of an 85-year-old.