The application period for TMB24 has not started yet. Please sign up for our reminder.
Talent Meets Bertelsmann
International networking event in Berlin

Since 2008, Bertelsmann has invited hundreds of international students to Berlin for three summer days full of networking, workshops and community events. The talents work in interdisciplinary teams on exciting case studies and collaborate with experienced entrepreneurs on business challenges in the fields of tech & data and the media industry.
TMB will change what you expect from a networking event and enable you to create your own career!
When and where?
Summer 2024 in Berlin
The event takes place every summer at the Bertelsmann representative office "Unter den Linden 1" in Berlin. A virtual kick-off gives the participants the chance to get to know their fellow team members, the workshop hosts and the Bertelsmann team!
Meeting fellow students from diverse backgrounds
Case studies about media and tech & data
Presenting ideas to Board members
Networking with Bertelsmann executives
Becoming a member of our alumni community
A party you won't forget
Innovative minds who
Reside in Europe and are enrolled in a university or college at the time of the event
Have a background in tech, data, management or media
Bring a tech, entrepreneurial or creative mindset and strong communication skills
Gained experience outside their course of studies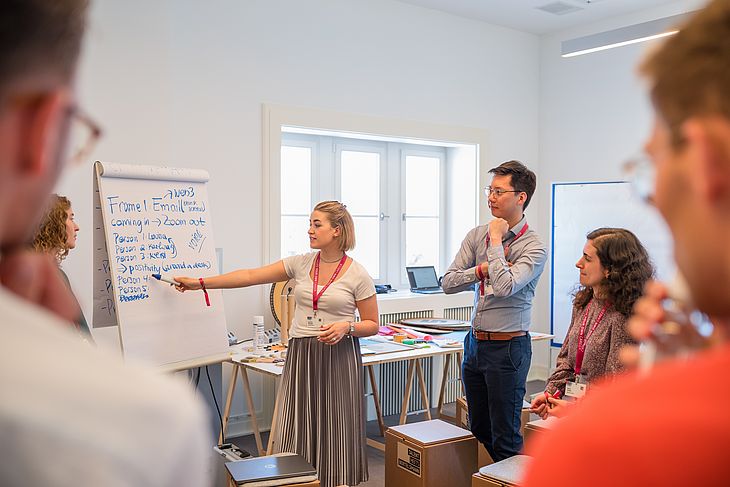 WEB3
Sharing virality: Fractionalized investing within the influencer economy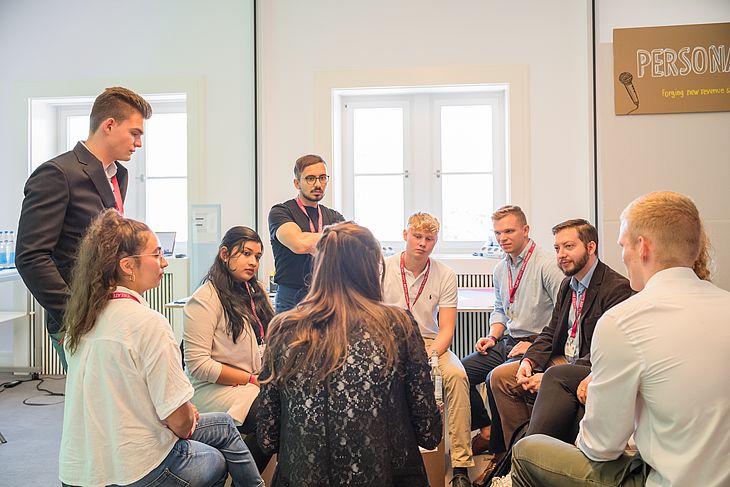 Personality Rights
Forging new revenue streams for legacy artists in the digital era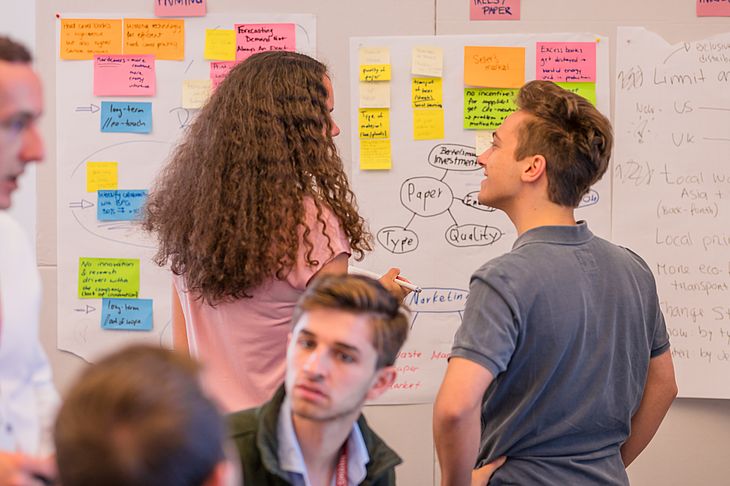 Sustainability
Turning the page on carbon: Redesigning PRH's global supply chain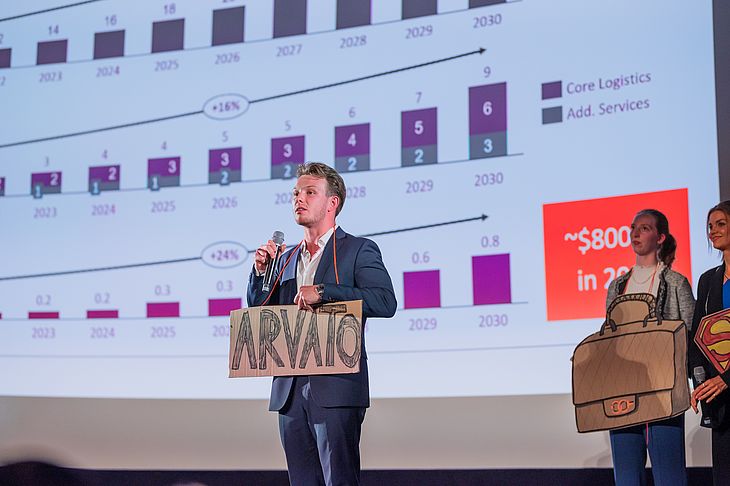 Circular Economy
A new "spin" on the supply chain for luxury fashion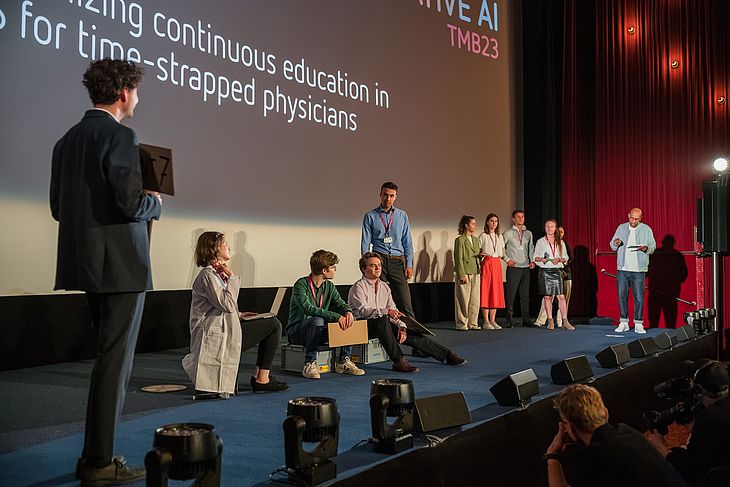 Generative AI
Revolutionizing continuous education in the US for time-strapped physicians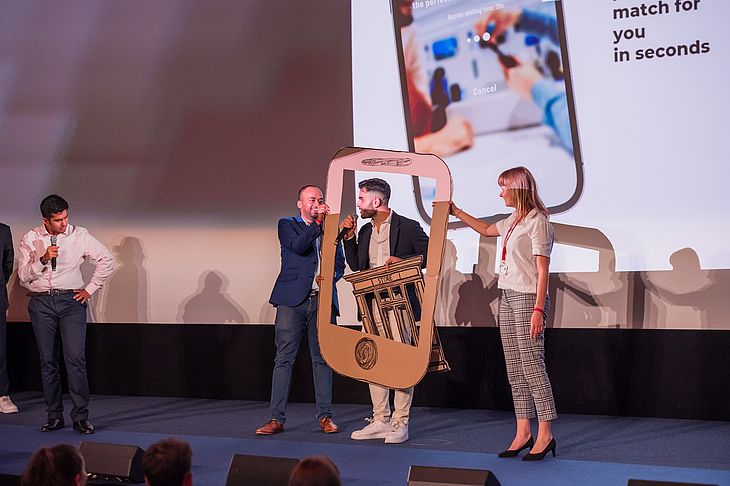 Digital Retail
Building back brick & mortar by digitizing the offline shopping experience
Application

What are the requirements for participating in Talent Meets Bertelsmann generally?

You must be a currently enrolled Bachelor, Master or MBA student, or a Ph.D. candidate in the field of data science (e.g. statistics, computer science or business analytics), business (e.g. economics or management) or creativity (e.g. humanities, media management or journalism). You need to provide proof of your proficiency in English, as the event will be held in English. You should also be enthusiastic about the media industry, entrepreneurial ideas and data.

Does it matter how far along I am in my studies?

No. You are eligible to participate whether you are just beginning, in the middle or about to graduate. MBAs with some work experience are also welcome.

When is the application deadline?

The application phase for Talent Meets Bertelsmann 2023 was open from March 6, 2023 until May 1, 2023. Feel free to sign up for our reminder to make sure to not miss the application period for Talent Meets Bertelsmann 2024.

When and how will I find out whether I'm among the top talents?

Once we have reviewed all applications, applicants may be invited to the second round of the selection process, an asynchronous video interview held in English. Alternatively, one can opt for a phone interview. Those selected for participating in a video interview will be notified via e-mail.

What is an asynchronous video interview?

The asynchronous video interview is a virtual form of interview in which you, the applicant, are guided through a structured process, and you can choose when you want to start the interview. During the interview, you answer (text-based) questions in front of your webcam while being recorded. It is asynchronous because you complete the interview independently, at a time and place of your choice, without an interviewer asking the questions.

Why do an asynchronous video interview instead of a phone interview?

A phone interview can only give a small glimpse into your skills and personality. You benefit greatly from the fact that we can get a more complete impression. Another advantage is your independence regarding time and place. For an asynchronous video interview, there is no need to spend a lot of time coordinating schedules for an initial appointment because it can be carried out when you and we are available, independently of each other.

Of course, you can still opt to perform a telephone interview instead.

How is the protection of my data guaranteed?

The security of your personal data is guaranteed at every point of the selection process. The software for the asynchronous video interviews meets the highest technical and organizational security standards.

Access to the password-protected software is available only to relevant contact persons. Your data and your interview are protected from unauthorized access at all times.

What are the safety precautions with regard to the Coronavirus?

With regard to safety measures concerning COVID-19, we reserve the right to require an official negative test for each day you participate in the event. In any case, we will observe the German Ordinance on Coronavirus Entry Regulations at the time of and during the event.